Get these membership discounts and more on our Life CU Perks page!
There are more reasons than ever to love being a member of Life CU.
Your credit union membership is about the trust and care of community, built around where you live, work and play. That's why a Life CU membership saves you money through exclusive member-only offers through our trusted partners. Through Love My Credit Union Rewards, credit union members have saved over $2 billion with offers like:
» Savings up to $15 on TurboTax federal products.
» Exclusive discount from the TruStage Home & Auto Insurance Program.
» Members save on SimpliSafe, the #1 expert pick for home security.
» Save 30% on premium identity protection from Financial Lock.
» Exclusive access to the Love My Credit Union Rewards Powersports, RV & Boat Buying Program.
» Save on car maintenance + get $10 off your first service using CarAdvise.
» Save 40% on a 1-year membership to Sam's Club.
» Build your credit history with rent and save up to 30% with Rental Kharma.
» Save $40 on Calm, the #1 app for meditation and sleep.
» Save on your Travel and Entertainment needs like Car Rentals, Hotels, Theme Parks, Movie Tickets and more!
Learn all about how your Life CU membership gets you all these exclusive savings and more at LoveMyCreditUnion.org. Check them out and start enjoying credit union member benefits you never knew you had.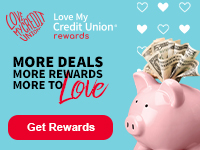 Get discounts & deals!